Warner Bros. didn't forget it Aquaman and the Lost Kingdom is just over a month away, which is clear from a new poster that declares: "The tide is turning."
This is likely a reference to Arthur Curry's relationship with his half-brother, Orm. Aquaman defeated Ocean Master in the first film and became the new king of Atlantis, sparing his ally-turned-enemy. He remained imprisoned in Atlantis but will be freed when Arthur needs help putting an end to Black Manta's machinations.
Much has been made of the dynamic between these two that was at the center of the DC Comics sequel, with filmmaker James Wan saying that it was always the plan to sideline Mera to put Orm in the spotlight.
"It's just that [Heard] says that [about the character being pared down]because she wasn't in my head while I was working on this film," » the filmmaker recently declared. "The actors don't necessarily know what we [directors] we think behind the scenes. But that was always my plan."
"From the beginning, I proposed that the first film would be something like Romancing The Stone – an action-adventure romantic comedy – while the second would be a true buddy comedy. I wanted to make Tango & Cash!"
We hope that this new look at the Aquaman the follow-up will lead to the launch of the marketing campaign in a big way; after all, if we don't get a final trailer in the coming weeks, then TV spots and featurettes are a guarantee. The end of the SAG-AFTRA strike also means that the film's cast will be free to promote the film (don't count Amber Heard among them).
Discover this new poster for Aquaman and the Lost Kingdom below.
It is time for Atlantis to rise. 🔱#Aquaman and the Lost Kingdom – Only in theaters December 22. pic.twitter.com/PAWAqA9yHM

– Aquaman Movie (@aquamanmovie) November 13, 2023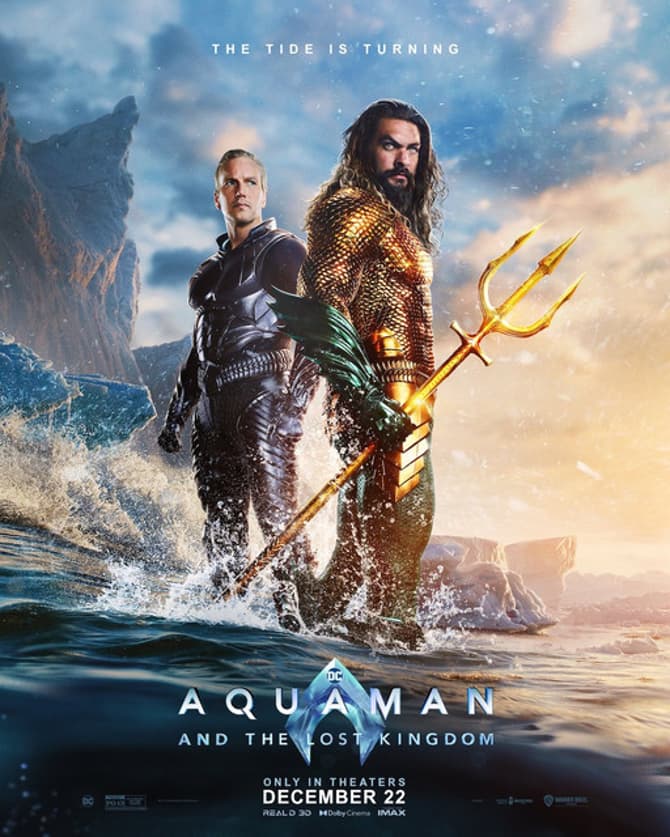 Director James Wan and Aquaman himself, Jason Momoa – alongside Patrick Wilson, Amber Heard, Yahya Abdul-Mateen II and Nicole Kidman – return in the sequel to the highest-grossing DC film of all time: Aquaman and the Lost Kingdom.
Having failed to defeat Aquaman the first time, Black Manta, still driven by the need to avenge his father's death, will stop at nothing to eliminate Aquaman once and for all. This time, Black Manta is more fearsome than ever, wielding the power of the mythical Black Trident, which unleashes an ancient and malevolent force. To defeat him, Aquaman will turn to his imprisoned brother Orm, the former king of Atlantis, to forge an unlikely alliance. Together, they must put aside their differences to protect their kingdom and save Aquaman's family and the world from irreversible destruction.
All returning to the roles they created, Jason Momoa plays Arthur Curry/Aquaman, now balancing his duties as King of Atlantis and new father; Patrick Wilson is Orm, Aquaman's half-brother and archenemy, who must now take on a new role as his brother's reluctant ally; Amber Heard is Mera, the queen of Atlantis and the mother of the heir to the throne; Yahya Abdul-Mateen II is Black Manta, determined more than ever to avenge his father's death by destroying Aquaman, his family and Atlantis; and Nicole Kidman as Atlanna, a fierce leader and mother with the heart of a warrior. Also reprising their roles are Dolph Lundgren as King Nereus and Randall Park as Dr. Stephen Shin.
The screenplay is by David Leslie Johnson-McGoldrick, from a story by James Wan and David Leslie Johnson-McGoldrick and Jason Momoa and Thomas Pa'a Sibbett.
Aquaman and the Lost Kingdom will be released on December 22.